Hey Book Lovers!
Today I am bringing you a post all about book covers! Now in the last few weeks we have had some cover reveals that have absolutely blown my mind! So today, I wanted to share a few of my favourites with you!
Today I introduce to you a new continuous series on my blog!
AMAZING COVER REVEALS!
1 – Our Dark Duet – Victoria Schwab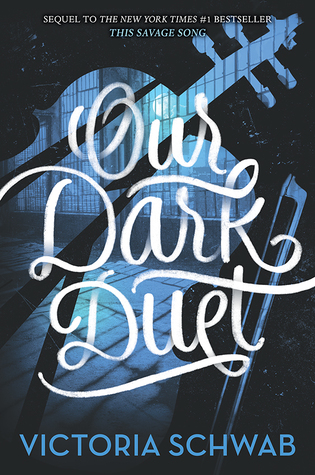 First we start off with Our Dark Duet which is the second book in the Monsters of Verity duology by Victoria Schwab! This Savage Song was released in July this year, and you can't help but love what they have done with the front cover of Our Dark Duet!
The beautiful typography is continued over from This Savage Song, and I just love how they continued the prominent guitar in the back ground! I just love that you can see the resemblance with each cover being just as beautiful as the other!
Kate Harker is a girl who isn't afraid of the dark. She's a girl who hunts monsters. And she's good at it. August Flynn is a monster who can never be human, no matter how much he once yearned for it. He's a monster with a part to play. And he will play it, no matter the cost.
      2 – A Conjuring of Light – V. E. Schwab
If Victoria and her publishers know one thing, it's how to get amazing covers! All of her series have covers that demand attention, and that is exactly what A Conjuring of Light does!
A Conjuring of Light is the third book in the Shades of Magic trilogy (I think it's a trilogy), and although I haven't read this series, the first book is on my shelf and I can't wait to start it.
London's fall and kingdoms rise while darkness sweeps the Maresh Empire—and the fraught balance of magic blossoms into dangerous territory while heroes and foes struggle alike.
             3 – Traitor to the Throne – Alwyn Hamilton
Everybody know's how I feel about Alwyn Hamilton's writing, and if you don't know how excited I am about Traitor to the Throne, click here, and find out because I have already written a whole post about it!
Traitor to the Throne, is the second beauty of the Rebel of the Sands Trilogy, and I love the arabian nights feeling that these covers give off! Also, the detailing is beautiful! You see that little jumping Amani, that is the detail that just gives off such good vibes about whats to come!
Nearly a year has passed since Amani and the rebels won their epic battle at Fahali. Amani has come into both her powers and her reputation as the Blue-Eyed Bandit, and the Rebel Prince's message has spread across the desert – and some might say out of control. But when a surprise encounter turns into a brutal kidnapping, Amani finds herself betrayed in the cruellest manner possible.
  4 – Now I Rise – Kiersten White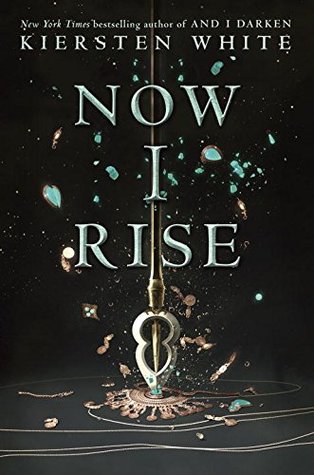 Now I Rise… just the name sounds powerful and I absolutely love the idea of powerful women! This cover is just as powerful to match!
Now I Rise is the second book in The Conquerors Saga, which I believe is a trilogy but I am not 100% sure on that one! The cover matches the first book, however i Have to admit I loved And I Darken's cover and the destruction of the beautiful flower more!
Lada Dracul has no allies. No throne. All she has is what she's always had: herself. After failing to secure the Wallachian throne, Lada is out to punish anyone who dares to cross her blood-strewn path. Filled with a white-hot rage, she storms the countryside with her men, accompanied by her childhood friend Bogdan, terrorizing the land. But brute force isn't getting Lada what she wants. And thinking of Mehmed brings little comfort to her thorny heart. There's no time to wonder whether he still thinks about her, even loves her. She left him before he could leave her.
5 – Frostblood – Elly Blake 
Frost Blood's cover was released a few months ago, but I definitely had to touch on it because I only just noticed this one! This one stood out to me immediately, I absolutely love the detailing and it intrigued me from the first glance!
I was lucky enough to receive an A.R.C of Frost Blood from NetGalley, so you will definitely be hearing my thoughts on this one soon!
Seventeen-year-old Ruby is a fireblood who must hide her powers of heat and flame from the cruel frostblood ruling class that wants to destroy all that are left of her kind. So when her mother is killed for protecting her and rebel frostbloods demand her help to kill their rampaging king, she agrees. But Ruby's powers are unpredictable, and she's not sure she's willing to let the rebels and an infuriating (yet irresistible) young man called Arcus use her as their weapon.
That is all I have for you today for the first installment of Amazing Cover Reveals! Let me know which of these covers you liked, or let me know any recent reveals that you particularly liked!!!
Thanks for reading, and I will talk to you soon!
HAPPY READING
Bex