Hello Book Lovers!
There have been many books released in 2016 that were amazing, and so far the first few months of 2017 is packed full of amazing books that I cannot wait to get my hands on!
Today, I am bringing to you my top 10 highly anticipated releases for the first few months of 2017.
Number 1. Caraval by Stephanie Garber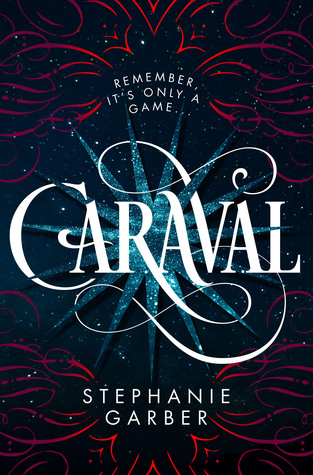 Release Date: 31st January 2017
There are many reasons why Caraval is on my highly anticipated list, for one I was lucky enough to receive a E-ARC via Netgalley from Hachette Australia. I have read, and reviewed this book already and if you would like to check out my non-spoilery thoughts, please feel free to click here! But for a brief overview: Caraval has it all. It is magic, mystery, intrigue, romance and deception, all melded perfectly with beautifully written details that portrayed scenes of movies.
Synopsis provided by Goodreads: Scarlett has never left the tiny island where she and her beloved sister, Tella, live with their powerful, and cruel, father. Now Scarlett's father has arranged a marriage for her, and Scarlett thinks her dreams of seeing Caraval, the far-away, once-a-year performance where the audience participates in the show, are over.
But this year, Scarlett's long-dreamt of invitation finally arrives. With the help of a mysterious sailor, Tella whisks Scarlett away to the show. Only, as soon as they arrive, Tella is kidnapped by Caraval's mastermind organizer, Legend. It turns out that this season's Caraval revolves around Tella, and whoever finds her first is the winner.
Scarlett has been told that everything that happens during Caraval is only an elaborate performance. But she nevertheless becomes enmeshed in a game of love, heartbreak, and magic with the other players in the game. And whether Caraval is real or not, she must find Tella before the five nights of the game are over, a dangerous domino effect of consequences is set off, and her sister disappears forever.
Number 2. Traitor to the Throne by Alwyn Hamilton
Release Date: 31st January 2017
Why am I excited for this release you ask? For so many reasons I could just go on forever. Rebel of the Sands was one of my favourite books from a debut author this year, I loved so much about Rebel of the Sands that the second book Traitor to the Throne was always going to be high on my list. Although I have been searching endlessly for an ARC, I haven't found one yet and I will continue secretly bursting inside until I receive it!
I have a whole post on my thoughts surrounding Traitor to the Throne as well as the title and synopsis review excitement,so please click here if you are interested.
Synopsis provided by Goodreads: This is not about blood or love. This is about treason.
Nearly a year has passed since Amani and the rebels won their epic battle at Fahali. Amani has come into both her powers and her reputation as the Blue-Eyed Bandit, and the Rebel Prince's message has spread across the desert – and some might say out of control. But when a surprise encounter turns into a brutal kidnapping, Amani finds herself betrayed in the cruelest manner possible.
Stripped of her powers and her identity, and torn from the man she loves, Amani must return to her desert-girl's instinct for survival. For the Sultan's palace is a dangerous one, and the harem is a viper's nest of suspicion, fear and intrigue. Just the right place for a spy to thrive… But spying is a dangerous game, and when ghosts from Amani's past emerge to haunt her, she begins to wonder if she can trust her own treacherous heart.
Number 3. Carve The Mark by Veronica Roth
Release Date: 17th January 2017
Veronica Roth, as you probably know, is the Author of the Divergent Trilogy, and I was a bit skeptical at this release. However the synopsis, amazing cover and pretty hectic hype had drawn me in and therefore made my highly anticipated list! I cannot wait to see how Veronica writes science-fiction fantasy, and the hype so far for this book is pretty huge so we will see.
Synopsis provided by Goodreads: On a planet where violence and vengeance rule, in a galaxy where some are favored by fate, everyone develops a currentgift, a unique power meant to shape the future. While most benefit from their currentgifts, Akos and Cyra do not—their gifts make them vulnerable to others' control. Can they reclaim their gifts, their fates, and their lives, and reset the balance of power in this world?
Cyra is the sister of the brutal tyrant who rules the Shotet people. Cyra's currentgift gives her pain and power—something her brother exploits, using her to torture his enemies. But Cyra is much more than just a blade in her brother's hand: she is resilient, quick on her feet, and smarter than he knows.
Akos is from the peace-loving nation of Thuvhe, and his loyalty to his family is limitless. Though protected by his unusual currentgift, once Akos and his brother are captured by enemy Shotet soldiers, Akos is desperate to get his brother out alive—no matter what the cost. When Akos is thrust into Cyra's world, the enmity between their countries and families seems insurmountable. They must decide to help each other to survive—or to destroy one another.
Number 4. Hunted by Meagan Spooner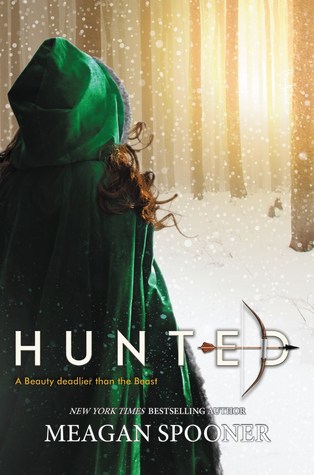 Release Date: 14th March 2017
This is a book I found out about on goodreads, and the reviews sent it straight to my highly anticipated list.This is a story I would like to hear, and hopefully it lives up to all my expectations!
Synopsis provided by Goodreads: Beauty knows the Beast's forest in her bones—and in her blood. Though she grew up with the city's highest aristocrats, far from her father's old lodge, she knows that the forest holds secrets and that her father is the only hunter who's ever come close to discovering them.
So when her father loses his fortune and moves Yeva and her sisters back to the outskirts of town, Yeva is secretly relieved. Out in the wilderness, there's no pressure to make idle chatter with vapid baronessas…or to submit to marrying a wealthy gentleman. But Yeva's father's misfortune may have cost him his mind, and when he goes missing in the woods, Yeva sets her sights on one prey: the creature he'd been obsessively tracking just before his disappearance.
Deaf to her sisters' protests, Yeva hunts this strange Beast back into his own territory—a cursed valley, a ruined castle, and a world of creatures that Yeva's only heard about in fairy tales. A world that can bring her ruin or salvation. Who will survive: the Beauty, or the Beast?
Number 5. Gilded Cage by Vic James
Release Date: 14th February 2017
Gilded Cage is a book I only recently became aware of when I was seeing some bloggers review it from ARC copies. It was enough, just the beautiful cover to my left, to hit my highly anticipated list… Watch me continue to judge books by their cover… Also guess which book will be next on my cover wars blog… THIS ONE!
Synopsis provided by Goodreads: Not all are free. Not all are equal. Not all will be saved. Our world belongs to the Equals — aristocrats with magical gifts — and all commoners must serve them for ten years. But behind the gates of England's grandest estate lies a power that could break the world.
A girl thirsts for love and knowledge. Abi is a servant to England's most powerful family, but her spirit is free. So when she falls for one of the noble-born sons, Abi faces a terrible choice. Uncovering the family's secrets might win her liberty, but will her heart pay the price?
A boy dreams of revolution. Abi's brother, Luke, is enslaved in a brutal factory town. Far from his family and cruelly oppressed, he makes friends whose ideals could cost him everything. Now Luke has discovered there may be a power even greater than magic: revolution.
And an aristocrat will remake the world with his dark gifts. He is a shadow in the glittering world of the Equals, with mysterious powers no one else understands. But will he liberate—or destroy?
Number 6. History by Laini Taylor
Release Date: 9th February 2017
Adam Silvera is probably one of the coolest people, I really enjoy watching his YouTube video's and I am just about to start reading his debut More Happy Than Not. I read the synopsis and instantly knew I would love to read this one! Diverse, heartwarming, heartbreaking… I can't wait to read this.
Synopsis provided by Goodreads: You're still alive in alternate universes, Theo, but I live in the real world where this morning you're having an open casket funeral. I know you're out there, listening. And you should know I'm really pissed because you swore you would never die and yet here we are. It hurts even more because this isn't the first promise you've broken.
OCD-afflicted seventeen-year-old, Griffin, has just lost his first love – his best friend, ex-boyfriend and the boy he believed to be his ultimate life partner – in a drowning accident. In a desperate attempt to hold onto every last piece of the past, a broken Griffin forges a friendship with Theo's new college boyfriend, Jackson. And Griffin will stop at nothing to learn every detail of Theo's new college life, and ultimate death. But as the grieving pair grows closer, readers will question Griffin's own version of the truth – both in terms of what he's willing to hide, and what true love ultimately means…
Number 7. Strange the Dreamer by Laini Taylor

Release Date: 28th March 2017
Let me stop you right there for a second… This cover is absolutely GORGEOUS! It's not even just the picture, I have seen the ARC's go out on bookstagram and if I could get my hands on this and be able to take beautiful photos I absolutely would! Quick little confession I have not read The Daughter of Smoke and Bone, however the premise of this book sound interesting and I am keen to get my hands on this one and then gush over the real life cover like we all know I will do!
Synopsis provided by Goodreads: The dream chooses the dreamer, not the other way around— and Lazlo Strange, war orphan and junior librarian, has always feared that his dream chose poorly. Since he was five years old he's been obsessed with the mythic lost city of Weep, but it would take someone bolder than he to cross half the world in search of it. Then a stunning opportunity presents itself, in the person of a hero called the Godslayer and a band of legendary warriors, and he has to seize his chance to lose his dream forever.
What happened in Weep two hundred years ago to cut it off from the rest of the world? What exactly did the Godslayer slay that went by the name of god? And what is the mysterious problem he now seeks help in solving?
The answers await in Weep, but so do more mysteries—including the blue-skinned goddess who appears in Lazlo's dreams. How did he dream her before he knew she existed? and if all the gods are dead, why does she seem so real?
In this sweeping and breathtaking new novel by National Book Award finalist Laini Taylor, author of the New York Timesbestselling Daughter of Smoke & Bone trilogy, the shadow of the past is as real as the ghosts who haunt the citadel of murdered gods. Fall into a mythical world of dread and wonder, moths and nightmares, love and carnage.
Welcome to Weep.
Number 8. Daughter of the Pirate King by Tricia Levensella
Release Date: 28th February 2017
OK so growing up Mum and I used to watch the Pirates of Panzance which is a musical… well 20 or so years later, here I am with an obsession with Pirates and of course, excited for a YA Pirate inspired novel! Also… big fan of Pirates of the Carribean so YES PLEASE!
Synopsis provided by Goodreads: A 17-year-old pirate captain intentionally allows herself to get captured by enemy pirates in this thrilling YA adventure.
If you want something done right . . .
When the ruthless pirate king learns of a legendary treasure map hidden on an enemy ship, his daughter, Alosa, knows there's only one pirate for the job—herself. Leaving behind her beloved ship and crew, Alosa deliberately facilitates her own kidnapping to ensure her passage on the ship, confident in her ability to overcome any obstacle. After all, who's going to suspect a seventeen-year-old girl locked in a cell? Then she meets the (surprisingly perceptive and unfairly attractive) first mate, Riden, who is charged with finding out all her secrets. Now it's down to a battle of wits and will . . . . Can Alosa find the map and escape before Riden figures out her plan?
Debut author Tricia Levenseller blends action, adventure, romance, and a little bit of magic into a thrilling YA pirate tale.
Number 9. The Bone Witch by Rin Chupeco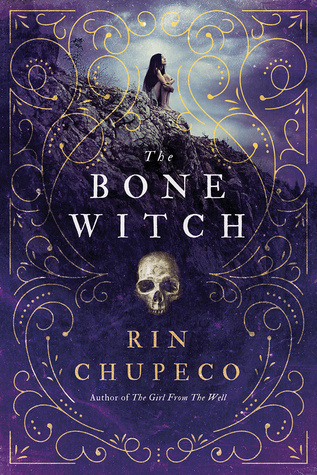 Release Date: 7th March 2017
Netgalley was the first place I saw Bone Witch and although I didn't request an ARC, I knew it was something that would interest me when it released. Not only that but that cover it just gorgeous!
Synopsis provided by Goodreads: When Tea accidentally resurrects her brother from the dead, she learns she is different from the other witches in her family. Her gift for necromancy means that she's a bone witch, a title that makes her feared and ostracized by her community. But Tea finds solace and guidance with an older, wiser bone witch, who takes Tea and her brother to another land for training.
In her new home, Tea puts all her energy into becoming an asha — one who can wield elemental magic. But dark forces are approaching quickly, and in the face of danger, Tea will have to overcome her obstacles…and make a powerful choice.
Number 10. Frost Blood by Elly Blake
Release Date: 10th January 2017
This is another book that Netgalley introduced me too, and I am lucky enough to have been provided an E-ARC by Hachette Australia via Netgalley which I am going to be reading in December! I like the idea of fire verse ice and I can't wait for this release and see if Ruby is as kick-ass as I think she will be!
Synopsis provided by Goodreads: Seventeen-year-old Ruby is a fireblood who must hide her powers of heat and flame from the cruel frostblood ruling class that wants to destroy all that are left of her kind. So when her mother is killed for protecting her and rebel frostbloods demand her help to kill their rampaging king, she agrees. But Ruby's powers are unpredictable, and she's not sure she's willing to let the rebels and an infuriating (yet irresistible) young man called Arcus use her as their weapon.
All she wants is revenge, but before they can take action, Ruby is captured and forced to take part in the king's tournaments that pit fireblood prisoners against frostblood champions. Now she has only one chance to destroy the maniacal ruler who has taken everything from her and from the icy young man she has come to love.
There it is, my top 10 highly anticipated releases for the first three months of 2017! There are heaps of other books I am highly anticipating but if I am not up to date with my reading of the series I didn't want to place it on my list!
Let me know in the comments if any of these are on your highly anticipated releases, or if you have a release that hasn't made it to my top 10! I would love to hear your thoughts!
HAPPY READING!
Bex