Long Way Down by Jason Reynolds
"But if the blood inside you is on the inside of someone else, you never want to see it on the outside of them."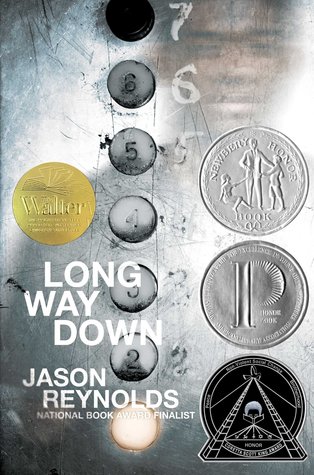 Details
Title: Long Way Down
Author: Jason Reynolds
Publication Month: January
Publisher: Faber Faber
Age Range: Young Adult
Publication Date: 8th January 2018
Long Way Down was an emotional, raw, powerful and beautiful novel!
Long Way Down follows Will, a young boy who's brother Shawn was just murdered. Will know's the rules, you don't cry, you don't snitch, you get revenge and that's what Will sets out to do. With Shawn's piece shoved down the back of his waistband, Will steps onto the elevator but is visited by people from his past. Jason Reynolds takes an emotional topic of murder and weaves a story that will stick with me.
I want to start off by saying I was nervous starting Long Way Down, although I had heard amazing things I don't usually enjoy stories told in prose but this book definitely changed my mind. The writing style was absolutely beautiful, and I found myself getting swept up in the lyrical prose and emotional notions included in the story. I absolutely flew through this novel in one sitting, the writing style made for a quick read that you could really immerse yourself in.
This story spans over sixty seconds in an elevator ride, and although the time span is short, the story really packed a punch. Long Way Down wasn't overly plot driven, it was character focused, and I loved that from the first moment to the end we learn so much about Will and the life in which he and his family live. It's a confronting story of a black kid brought up in a rough part of town, with violence and fear at the forefront of his life. Jason did a wonderful job of writing this character, he wrote with honesty and didn't sugar coat the situation which made the story even more real and touching.
Overall, I really enjoyed this powerful novel, the prose was beautiful and the message of the story was well received. .
Favourite Quote: "ANOTHER THING ABOUT THE RULES
They weren't meant to be broken.
They were meant for the broken
to follow."
Rating: 5/5
Purchase Long Way Down by Jason Reynolds from Book Depository and receive FREE SHIPPING: https://www.bookdepository.com/Long-W…