Girls of Paper and Fire by Natasha Ngan
Girls of Paper and Fire is a beautifully written Asian inspired fantasy novel, with dark themes, diverse complex characters and amazing world building!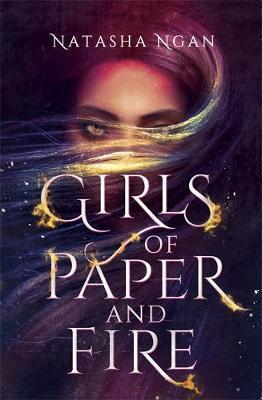 Details
Title: Girls of Paper and Fire
Author: Natasha Ngan
Publication Month: November
Publisher: Hodder & Stoughton | Hachette Australia
Age Range: Young Adult
Publication Date: 6th November 2018
RRP: $19.99 (Australian Price)
I received a free copy of this book from Hachette Australia in exchange for an honest review. All my thoughts and comments are entirely my own.
Trigger Warning: Sexual assault, rape and animal death
In the land of Ikhara, there are three castes.
The Paper caste – Humans,
The Steel caste – Half human, half demon,
The Moon caste – Demons.
Each year, eight beautiful girls are chosen as Paper Girls, used to serve the king as his concubines. It is the highest honor, and the most cruel.
Lei is a member of the Paper caste, the lowest and most oppressed class, living in a remote village with her father. Ten years ago her Mother was snatched away by royal guards, now the guards are back and this time they are after Lei.
Stripped from her family and the safety of her home, Lei is the ninth paper girl and over weeks of training, Lei and the other Paper girls learn the skills and charms needed to play their new roles in the palace. However, Lei isn't content to watch her fate consume her, she wants to do something about it and on her own terms.
I tried to not know very much going into Girls of Paper and Fire, and I think that's the perfect way to read this novel. I was pleasantly surprised at how much I enjoyed this story, I was shocked at how dark Girls of Paper and Fire was. I didn't go in to this novel thinking about the triggers, but once I started reading I knew this book was going to be a unique reading experience.
Natasha weaves a beautiful Asian inspired fantasy story. The setting was so lush and rich, however I felt the pacing throughout this book was not perfect. There were parts where the story felt rushed, and alternatively where it was too slow. However, an important thing I look for in fantasy novels is world building that is beautiful but believable, and I felt completely immersed in the world but it also made sense.
Within her writing, Natasha included a lot of messages, specifically targeting rape culture. I thought this was threaded through the story sensitively, and in a way that really made the reader stop and think. It was interesting to see how in this world the Demon King threw his power around, and what he did to ensure the lower castes were oppressed and continued to remain this way.
Although the plot was entertaining, this is also where I found most of my issues. Unfortunately for me, I found Girls of Paper and Fire predictable in parts, and it felt like many stories that have been told before. Although I do feel like this fantasy took an interesting take on the class system, I don't think it was developed enough. The mythology behind the class system was intriguing and had so much potential, but I found it fell a bit short.
Now the characters within Girls of Paper and Fire were great to read about! What I enjoyed most about our protagonist Lei was that you could see her development throughout the book. From a small town, she is thrown into the Paper girl way of life with no training, and you can see her struggle. I find most author's mistake is not letting us see the growth, but Natasha definitely showed us the development which I really appreciated. I felt more connected to Lei as a main character through this, however I do her character missed the mark in terms of her end goal and what she was fighting for at times.
The side characters were another great addition to this story, and I found it really interesting to see how different girls reacted from becoming Paper girls. With each girl taking something different from the experience and where their allegiances grew, whether it was with the Demon King or with each other. The female/female relationship also was a wonderful element to the story. I felt like the relationship was unexpected, and it was a slow burn and well developed.
Overall, Girls of Paper and Fire was a great fantasy novel, which I would definitely recommend to readers who want a darker take on fantasy. It is diverse and complex, however I hope the plot and pacing steps up in the next novel.
Rating: 3.5/5
Purchase Girls of Paper and Fire by Natasha Ngan from Book Depository and receive FREE SHIPPING: https://www.bookdepository.com/Girls-…